President Launches Ayushman Bhav Campaign to Advance Healthcare Access
Table of Contents
In a significant leap towards achieving Universal Health Coverage (UHC) and ensuring healthcare for all, President Droupadi Murmu virtually launched the Ayushman Bhav campaign and the Ayushman Bhava portal from the Raj Bhavan in Gandhinagar. This initiative aims to deliver healthcare services to the last mile and consolidate access and affordability for underserved populations.
Multi-Ministerial Approach for Healthcare Access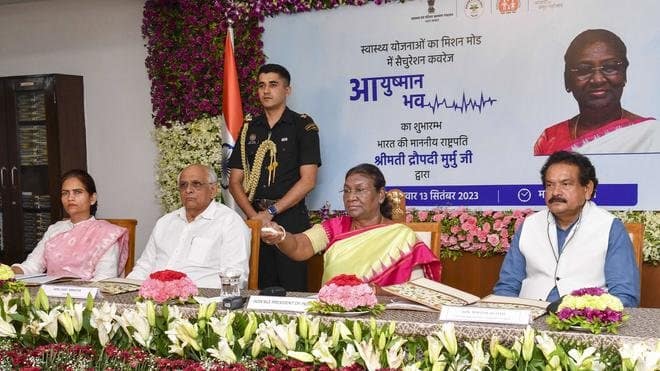 The President highlighted the multi-ministerial approach adopted by the Ayushman Bhav campaign to deliver healthcare services to the farthest reaches of India. This approach is crucial to the successful accomplishment of the goal of ensuring healthcare access for all citizens.
Antyodaya Philosophy: Health for All
President Murmu emphasized the philosophy of "antyodaya," which translates to good health for all and leaving no one behind. She praised the involvement and support of local governance in this endeavor and announced that gram panchayats achieving their healthcare goals would be recognized as Ayushman Gram Panchayats.
Commitment to Sustainable Development Goals
The President commended the government's commitment to achieving the set sustainable development goals within the designated time frame. She highlighted the Seva Pakwada initiative, which will run from September 17 to October 2, aiming to ensure that every individual receives essential health services.
Facilitating Access to Healthcare Services
Ayushman Bhav aims to facilitate access to healthcare through its three components:
Ayushman – Apke Dwar 3.0: Bringing healthcare services to the doorsteps of individuals.
Ayushman Melas at Health and Wellness Centres (HWC) and Community Health Clinics (CHC): Promoting healthcare awareness and services.
Ayushman Sabhas in every village and panchayat: Fostering community involvement in healthcare initiatives.
These components will significantly expedite access to healthcare services at the grassroots level, contributing to the development of a healthier nation.
Digital Inclusion for Healthcare
President Murmu also praised India's digital inclusion efforts, which have connected every village and district. This digital infrastructure plays a vital role in reaching healthcare facilities to remote areas.
The launch of the Ayushman Bhav campaign and the Ayushman Bhava portal represents a crucial step in India's journey towards providing comprehensive healthcare coverage to all its citizens.
Source: The Hindu