PM Vishwakarma Scheme: Empowering Traditional Crafts and Skills
Table of Contents
Introduction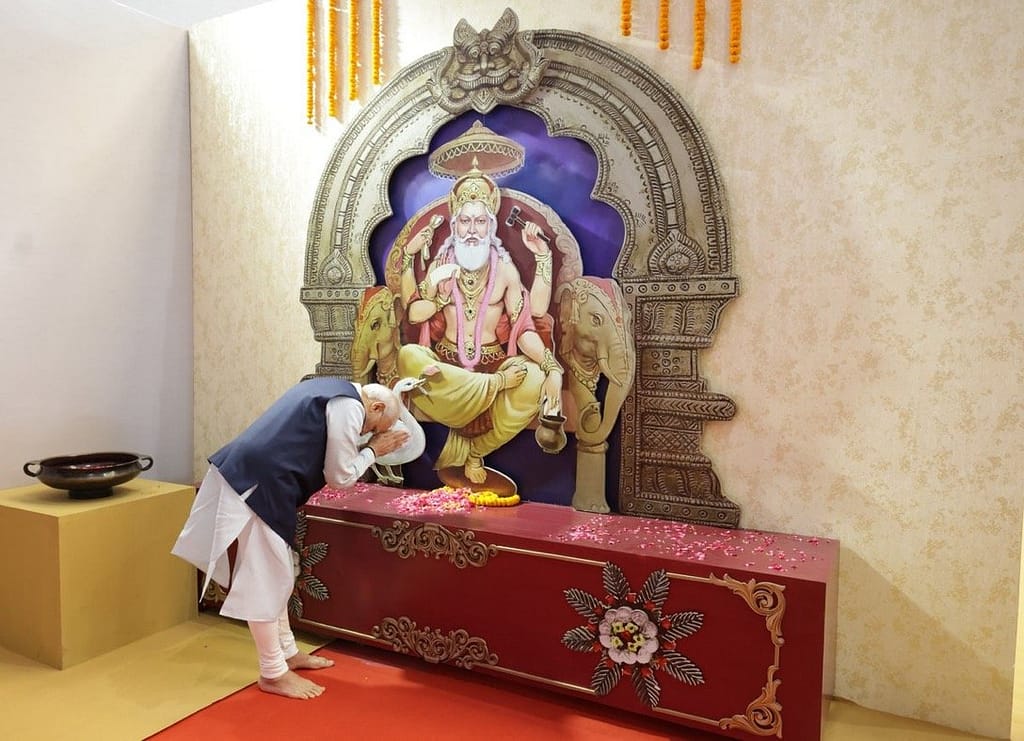 On September 17, Prime Minister Narendra Modi launched the PM Vishwakarma scheme in New Delhi, coinciding with Vishwakarma Jayanti, to provide government support to workers engaged in traditional crafts and skills. This ambitious scheme, with a total outlay of Rs 13,000 crore, aims to uplift and empower artisans and workers who have honed their skills over generations.
The Essence of Vishwakarma
In Hindu mythology, Vishwakarma is revered as the architect of the gods, a divine carpenter, and master craftsman. Legends portray him as the builder of celestial cities and chariots and the creator of divine weapons. He is regarded as the patron deity of workers, artisans, and artists. The PM Vishwakarma scheme seeks to honor and support those who, like Vishwakarma, work diligently with their hands and traditional skills.
Target Beneficiaries
The scheme primarily targets professionals engaged in traditional crafts and skills, often passed down through generations within families. These artisans have faced various challenges, including a lack of professional training, outdated tools, limited access to relevant markets, and insufficient capital for investment. The Vishwakarma scheme aims to assist families associated with 18 different sectors, including:
Carpenters
Boat Makers
Armourers
Blacksmiths
Hammer and Tool Kit Makers
Locksmiths
Goldsmiths
Potters
Sculptors and Stone breakers
Cobblers (Shoesmiths/Footwear artisans)
Masons (Rajmistri)
Basket/Mat/Broom Makers/Coir Weavers
Doll & Toy Makers (Traditional)
Barbers
Garland makers
Washermen
Tailors
Fishing Net Makers
Benefits of the Vishwakarma Scheme
The PM Vishwakarma scheme offers a range of benefits to enhance the skills and livelihoods of workers engaged in traditional crafts and skills:
Registration: Vishwakarma workers will be registered for free through Common Services Centres using the biometric-based PM Vishwakarma portal.
Recognition: Workers will receive recognition through the PM Vishwakarma certificate and ID card.
Skill Upgradation: The scheme includes basic and advanced training to upgrade workers' skills.
Toolkit Incentive: Workers will receive a toolkit incentive of ₹15,000.
Collateral-free Credit Support: Loans up to ₹1 lakh (first tranche) and ₹2 lakh (second tranche) will be provided at a concessional interest rate of 5%.
Incentive for Digital Transactions: Workers will receive incentives for digital transactions.
Marketing Support: Support for marketing their products and services.
Stipends: A stipend of Rs 500 for skill training and Rs 1,500 to purchase modern tools.
Coverage and Integration
The scheme aims to cover five lakh families in the first year and extend support to 30 lakh families over five years. Beyond skill enhancement and financial assistance, the Vishwakarma scheme also seeks to integrate these artisans with domestic and global value chains, fostering economic empowerment and sustainability.
In conclusion, the PM Vishwakarma scheme embodies the government's commitment to empower traditional craftsmen and skilled workers. By providing training, tools, financial support, and market access, it aims to preserve and promote India's rich heritage of craftsmanship while improving the livelihoods of those who have dedicated their lives to these traditional skills.
Source: The Indian Express