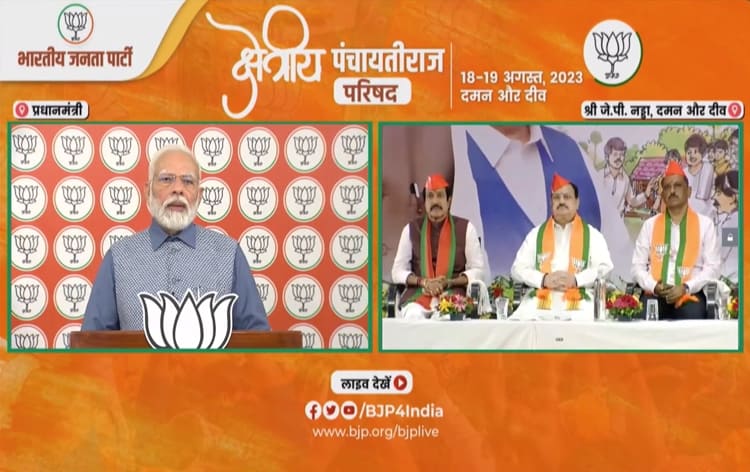 Table of Contents
Panchayati Raj institutions hold a pivotal role in propelling India towards becoming a developed nation by 2047, as emphasized by Prime Minister Narendra Modi. In his address to the Kshetriya Panchayati Raj Parishad in Dadra and Nagar Haveli and Daman & Diu via video conference, PM Modi underlined the significance of these institutions in shaping the country's future.
Strengthening the Pillars of Democracy
Highlighting the foundational role of Panchayats in the democratic framework, Prime Minister Modi reiterated his government's commitment to reinforcing Panchayati Raj institutions. He acknowledged their immense potential to catalyze substantial transformations across various sectors.
Transforming Development Initiatives into Mass Movements
PM Modi urged members of the BJP's 'Zila Panchayat' to transform development initiatives into widespread movements. He stressed the necessity of igniting the "lamp of development" in every village, tehsil, and district, with the ultimate goal of achieving developed status for India by 2047.
'Sabka Saath, Sabka Vikas': Beyond a Slogan
The Prime Minister emphasized that the slogan "sabka saath, sabka vikas" is not mere rhetoric for the BJP. He urged party members to live this principle consistently, asserting that the commitment to India's development goes beyond electoral gains. The overarching objective remains the transformation of India into a developed nation within the stipulated timeframe.
Empowering Local Bodies for Effective Change
PM Modi encouraged Zila Panchayat members to prioritize three projects annually, leveraging the increased funding available to local bodies. He noted that the funding allocation for local bodies has substantially risen, providing ample resources for developmental projects. The grant, which used to be around 70,000 crore rupees, has now exceeded one lakh crore rupees.
Holistic Development and Asset Creation
The Prime Minister highlighted the construction of over 30,000 Zila Panchayat buildings as an achievement of his government. He stressed the importance of asset creation and proposed the utilization of a portion of the MNREGA budget for this purpose. This strategic approach aligns with his vision of holistic development, from infrastructure to social upliftment.
Inclusive Initiatives for Empowerment
PM Modi shared instances of initiatives aimed at inclusivity and empowerment, such as building toilets and facilitating access to bank accounts for the underprivileged. These efforts underscore his commitment to ensuring every citizen's well-being and participation in the journey towards a developed India.
Unity in Purpose and Vision
The conclave held in Dadra and Nagar Haveli and Daman & Diu witnessed the presence of BJP president J P Nadda alongside the Prime Minister. This gathering symbolized the unity of purpose and vision within the party to collectively steer India towards its ambitious development goal.
In conclusion, Prime Minister Narendra Modi's call to harness the potential of Panchayati Raj institutions echoes his resolute commitment to transforming India into a developed nation by 2047. The emphasis on community participation, holistic development, and inclusive initiatives resonates with his vision for a prosperous and empowered India.
Source: AIR