A Multinational Naval Display of Unity and Strength
The 27th edition of Exercise MALABAR has drawn to a close, leaving the world in awe of the power and coordination exhibited by the Indian Navy (IN), Royal Australian Navy (RAN), Japan Maritime Self Defence Force (JMSDF), and the US Navy (USN).
Table of Contents
---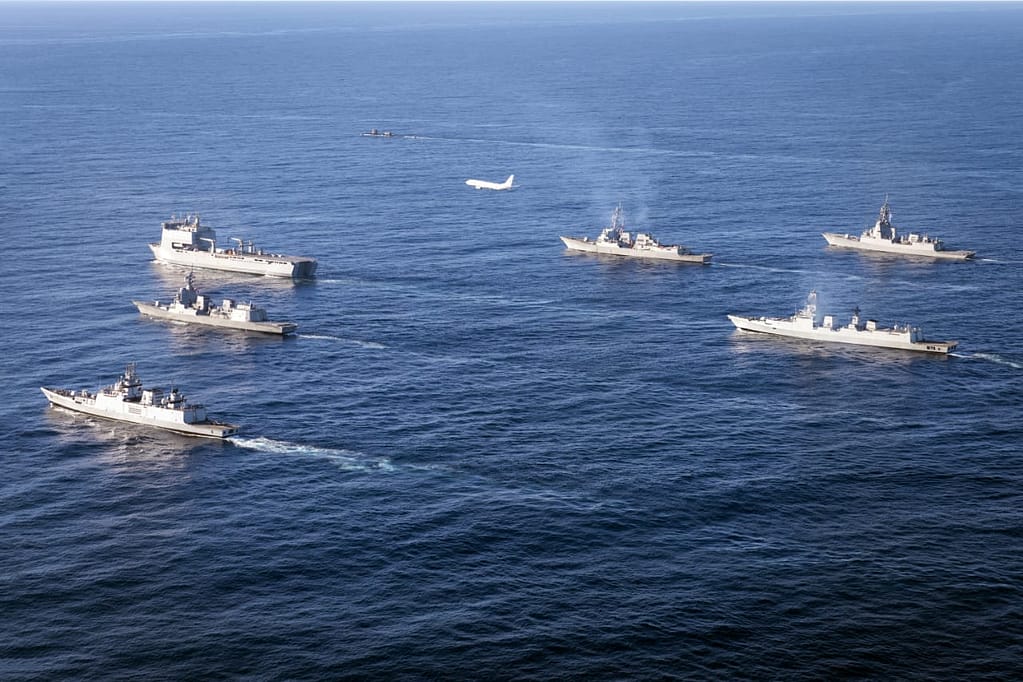 A Show of Maritime Prowess
Exercise MALABAR 23, conducted off the East Coast of Australia, showcased the prowess of four major naval forces in the world. This year's edition, held from 11th to 21st August 2023, was divided into two phases: a harbor phase and a sea phase.
The Participating Forces
The Indian Navy was front and center with its indigenously built Destroyer INS Kolkata, Frigate INS Sahyadri, and P8I Maritime Patrol Aircraft. Joining them were RAN ships HMAS Choules and HMAS Brisbane, USS Raphael Peralta, and JS Shiranui. Submarines, fighter aircraft, maritime patrol aircraft, and shipborne helicopters added to the formidable lineup.
Dynamic Sea Phase
As the ships set sail from Sydney harbor, the air assets operated from RAAF Amberley Brisbane. The P-8I Detachments, involving crews from the IN, RAAF, and USN, were stationed there.
The sea phase of Exercise MALABAR 23 was nothing short of spectacular. It featured complex and high-intensity exercises across air, surface, and undersea domains. Weapon firings and cross-deck helicopter operations added to the intensity. These joint exercises were a testament to the war-fighting skills and interoperability achieved between the four navies.
Exceptional Air Integration
What truly stood out was the seamless integration of air assets. It showcased the exceptional coordination between the Indian, Australian, and US maritime patrol aircraft units. This level of cooperation is vital in modern naval operations, and Exercise MALABAR demonstrated it brilliantly.
Commitment to Security and Stability
Beyond the impressive displays of power, this exercise emphasized a shared commitment to maritime security and regional stability. Through collaborative training and mutual understanding, the four nations reaffirmed their ability to operate as an integrated force.
A Vision for Indo-Pacific
Exercise MALABAR serves as a beacon for a free, open, and inclusive Indo-Pacific region. It promotes peace and security for all, underscoring the collective strength of these nations.
---
Read More: Official Article