Prime Minister Narendra Modi hails India's historic achievement
Table of Contents
---
India's Triumph on the Lunar Frontier
In a momentous event that will be etched in history, Chandrayaan-3, India's lunar mission, successfully touched down on the lunar surface. Prime Minister Narendra Modi, addressing ISRO scientists from Johannesburg, hailed this achievement as a testament to India's spirit and determination.
The Prime Minister's Words
Speaking virtually, Prime Minister Modi expressed pride in India's resolve to reach the moon and fulfill it successfully. He emphasized the significance of this achievement by noting that India had reached the South Pole of the moon, a feat never before accomplished by any nation.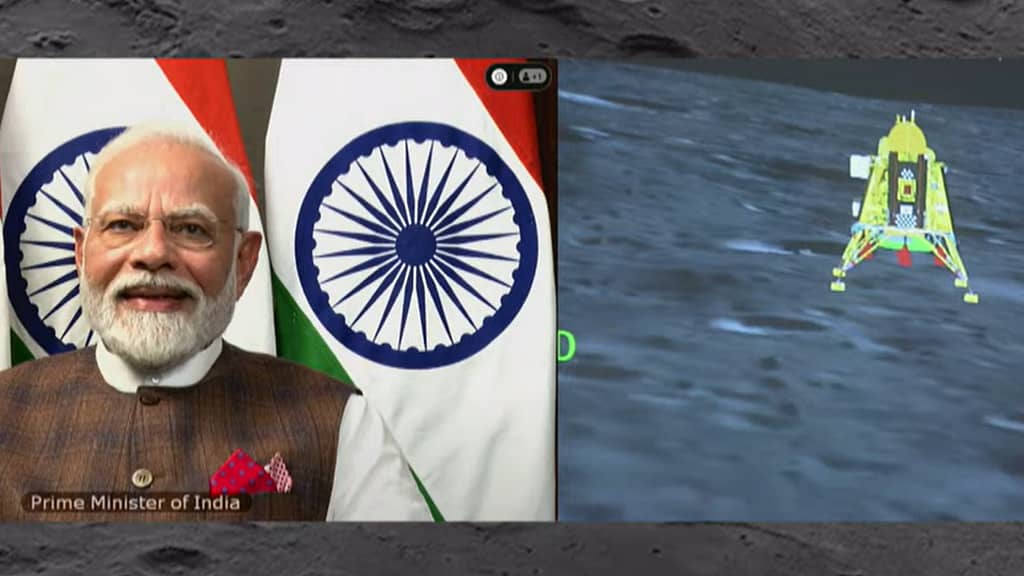 A Moment to Cherish
Prime Minister Modi proclaimed this achievement as a moment to cherish forever. India's entry into lunar exploration is not just a national triumph; it is a global milestone. He stressed that the mission's success aligns with the principle of "one earth, one family, one future," resonating with nations worldwide. This incredible feat was achieved during India's G20 presidency, adding to its significance.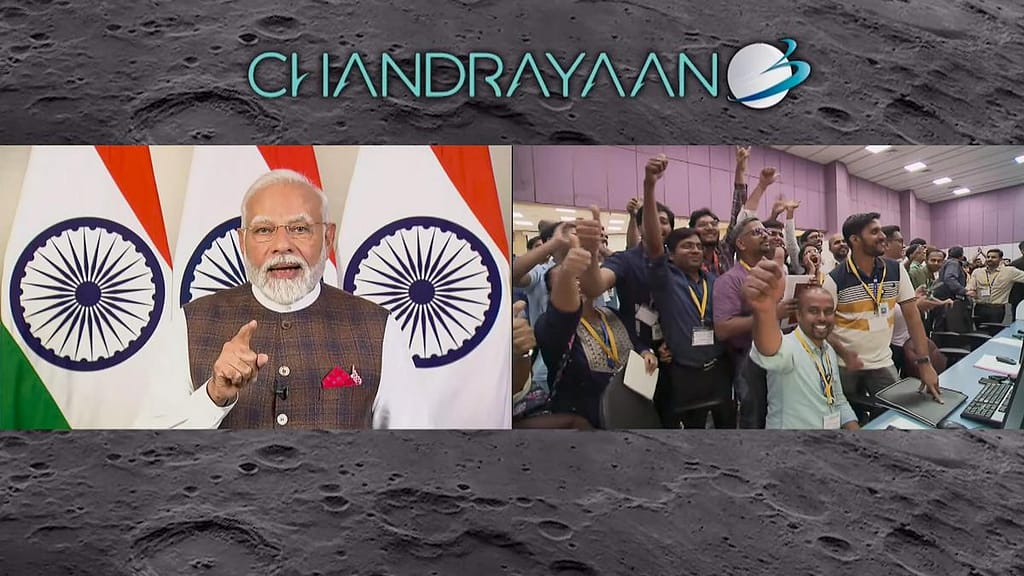 A New Flight for India
Modi emphasized that Chandrayaan-3's lunar landing symbolizes a new era for India. He declared, "We are witness to the new flight of new India. New history has been written." This achievement, while taking place during the BRICS Summit in South Africa, held a special place in the Prime Minister's heart.
Joining the Celebration
Prime Minister Modi joined the scientists virtually from ISRO's Telemetry, Tracking, and Command Network (ISTRAC), waving the tricolor as Chandrayaan-3 landed on the moon.
A Global Achievement
With this success, India became the fourth country in the world to master soft-landing technology on the lunar surface, following the United States, China, and the former Soviet Union.
Chandrayaan-3's Objectives
Chandrayaan-3 is a follow-on mission to Chandrayaan-2, aiming to demonstrate safe and soft-landing on the lunar surface, conduct lunar roving, and perform in-situ scientific experiments.
A Journey of Perseverance
This achievement follows Chandrayaan-2's lunar phase setback in 2019 when the lander 'Vikram' encountered difficulties during its landing attempt. India's lunar exploration journey began in 2008 with Chandrayaan-1.
The Mission's Details
The Chandrayaan-3 mission, with a budget of ₹600 crores, was launched on July 14, utilizing the Launch Vehicle Mark-III (LVM-3) rocket. The lander and rover are designed to operate for approximately 14 Earth days on the lunar surface.
This achievement is a testament to India's scientific prowess and unwavering commitment to space exploration.
---
Read More: Official Article